Unleash Laughter And Mayhem In Your Parties This Christmas

!



Are your relatives coming over for the holiday and you're in desperate need of a fun exciting game to keep everyone entertained?

Brighten up your Christmas parties and unleash laughter and mayhem with this Reindeer Hat Horseshoe Game!

This entertaining inflatable hat adds a unique twist to the classic ring toss and lets you catch the rings with your antlers!

It features 2 exciting game modes where you face off with your opponent and get the highest scores or square off in teams where the most ring count wins!

Simply wear the specialized antler hat and try to catch as many hoops as you can!

Get hours of laughter and fun as you bond in teamwork and play this Christmas with the Reindeer Hat Horseshoe Game!

Soft Durable And Very Easy To Wear!
Soft, durable, and inflatable PVC plastic that is easy to wear!

Product Specifications:

Material: Environmental PVC

Size: Antler 13.7" x 32.5". Ring is 7.5" x 7.5 "

Package Includes:

1 x Inflatable Antler Hat

4 x Inflatable Toss Rings

It's a fun and exciting game that everybody can join in and play!

Gather the whole family and let them pitch in on the fun as you toss and catch the rings in the Reindeer Hat Horeshoe Game!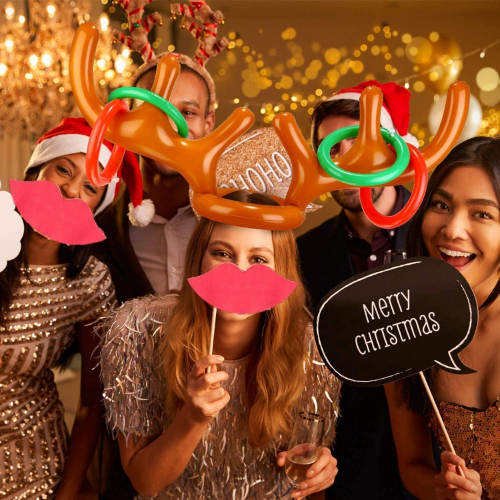 A Fun And Engaging Game For The Whole Family!
A fun and engaging game to play with the whole family!

The game comes with two distinct play modes, giving you the flexibility to play against your friend in 1-on-1 or to compete with another team!

Challenge your opponent in an adrenaline-pumping 1-on-1 battle as you pit your dexterity and wit to score as many rings as you can!

Compete in a nail-biting rivalry between teams and let your team's ring tossing accuracy dictate the highest score!

You can even add your own rules to make the game much more fun!

Give your family an excuse to put down their phones this holiday with the Reindeer Hat Horseshoe Game now!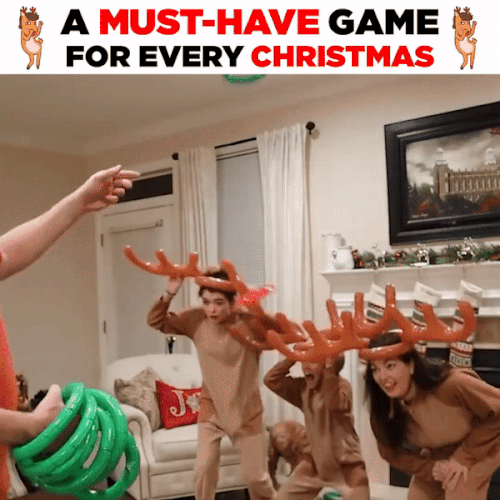 3 Buying Options, The More You Buy, The More You Save!
BUY 2 GET 1 FREE (2nd Option Below!)
How Long Does It Take To Ship?

We strive to provide you the best shopping experience and are working hard with sellers all over the world to get you great products at unbeatable prices! Due to our products coming from hundreds of sellers, our shipping is estimated to arrive at your doorstep within 14-21 Days.


What's inside a Reindeer Hat Horseshoe Game Pack?

Each pack comes with the following:

1 x Inflatable Antler Hat


4 x Inflatable Toss Rings

Material: Environmental PVC


Size: Antler 13.7" x 32.5". Ring is 7.5" x 7.5 "

What is Our Return Policy?

We want you to be completely satisfied with your purchase. If you're unhappy with the product, you can return the item within 30 days of receiving the item.




You can initiate a return using the contact us page to start a return ticket. Please include your order number and the reason for the return. We will either reship a new one, apply for credit, or refund you. We do our best to respond to all requests within 24 hours of receiving them.




At this time, Trending Deals does not refund, reimburse, cover or otherwise be responsible for any fees not paid to Trending Deals. This includes any customs taxes or VAT as well as any return shipping costs you may incur in the return process.